GREY KNIT SCARF | BLACK SWEATER | DENIM | GREY SNEAKERS
A lot of you have been asking for the top knot tutorial! I promise one is on the way – We are in the middle of repainting some of our rooms so it has better lighting – so once that's all done I'll be back filming videos again 🙂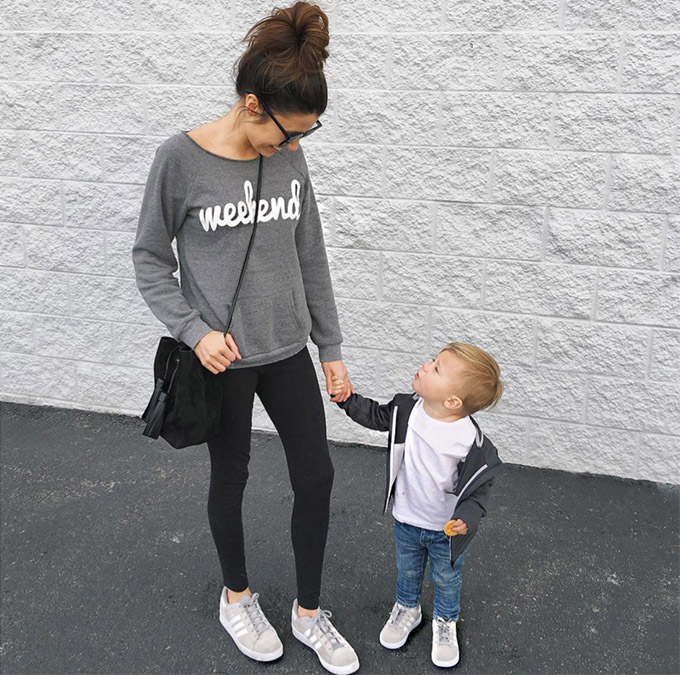 WEEKEND SWEATSHIRT | BLACK DENIM | BLACK BUCKET BAG | GREY SNEAKERS | SUNGLASSES
BECKAM: GREY SNEAKERS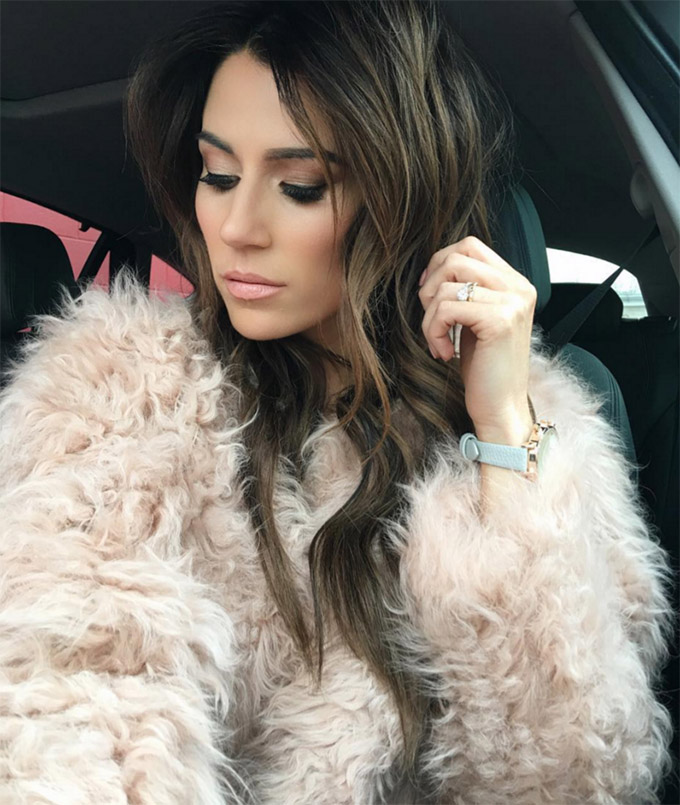 BLUSH FUR COAT (OBSESSED!) |  GREY WATCH (SIMILAR HERE)
A lot of you were asking about this coat on Instagram. I love the texture and color so much! I've worn it a couple times on my blog but I still get excited to wear it every time!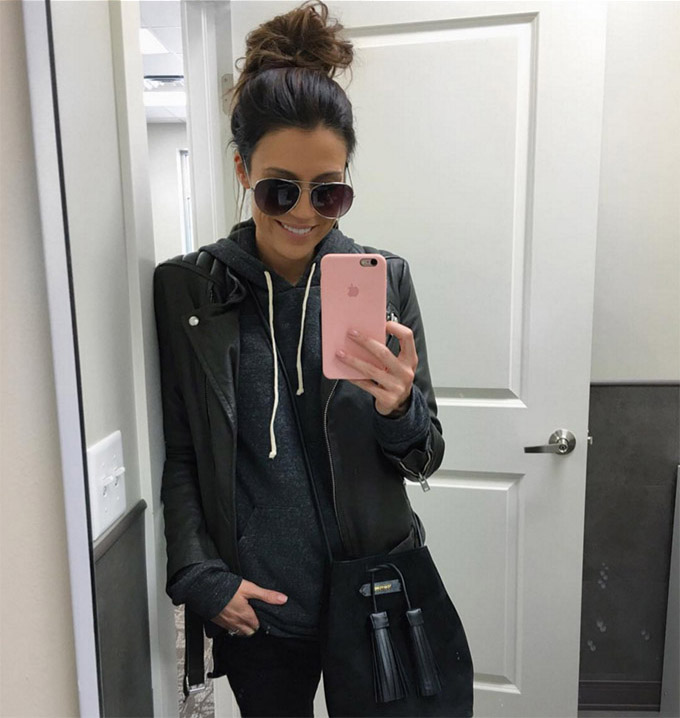 LEATHER MOTO JACKET (LOVE THIS ONE / ALSO LOVE THIS BUDGET FRIENDLY VERSION UNDER $100) | HOODED SWEATSHIRT | BLACK DISTRESSED DENIM (SIMILAR HERE) | BLACK BUCKET BAG (LAST SEEN IN THIS POST) | AVIATORS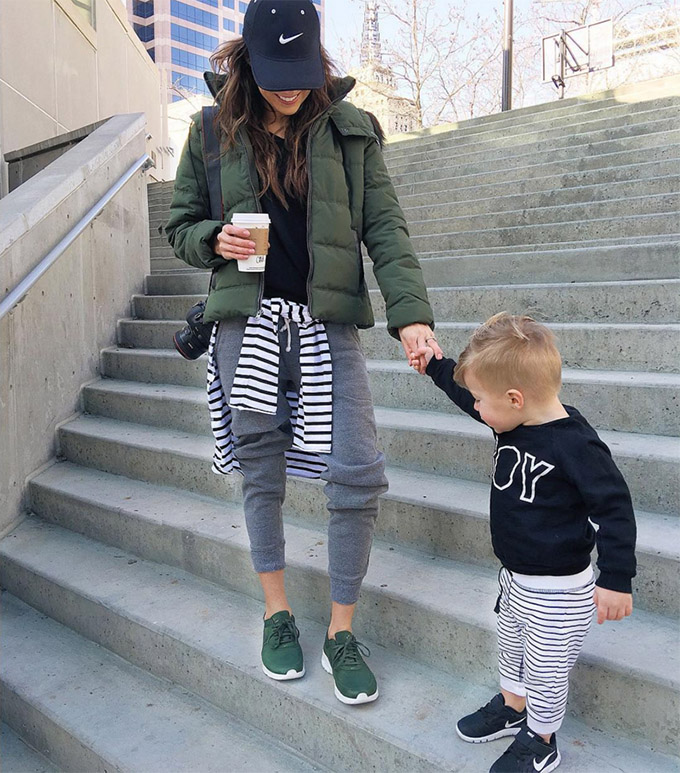 GREY JOGGERS | GREEN PUFFER JACKET | BLACK NIKE HAT (SIMILAR HERE)| STRIPED LONG SLEEVE TEE | OLIVE SNEAKERS
BECKAM: BOY SWEATSHIRT | BLACK NIKES
I grew up a tomboy so I love sporty laid back looks as much as I love to be dressed up. Comfortable joggers are a staple!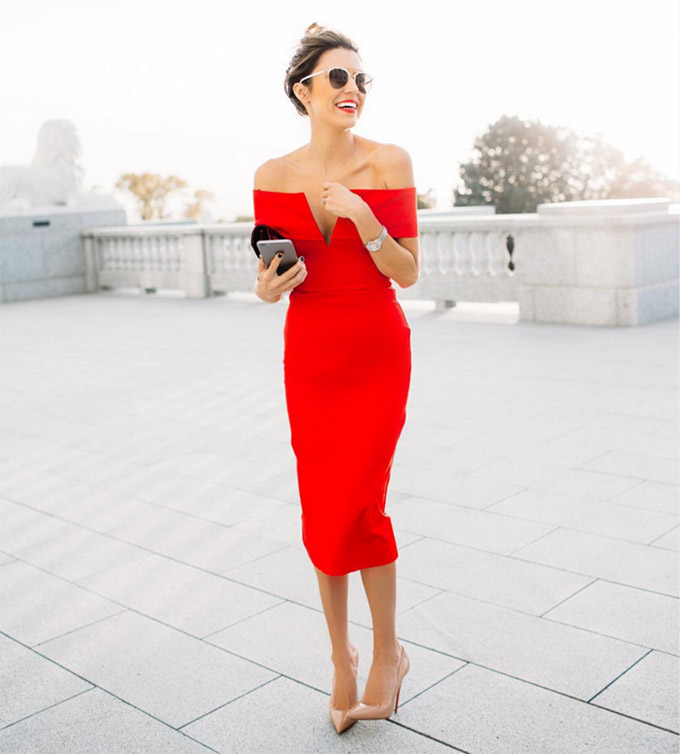 RED OFF-THE-SHOULDER DRESS | NUDE PATENT HEELS | SUNGLASSES | SILVER WATCH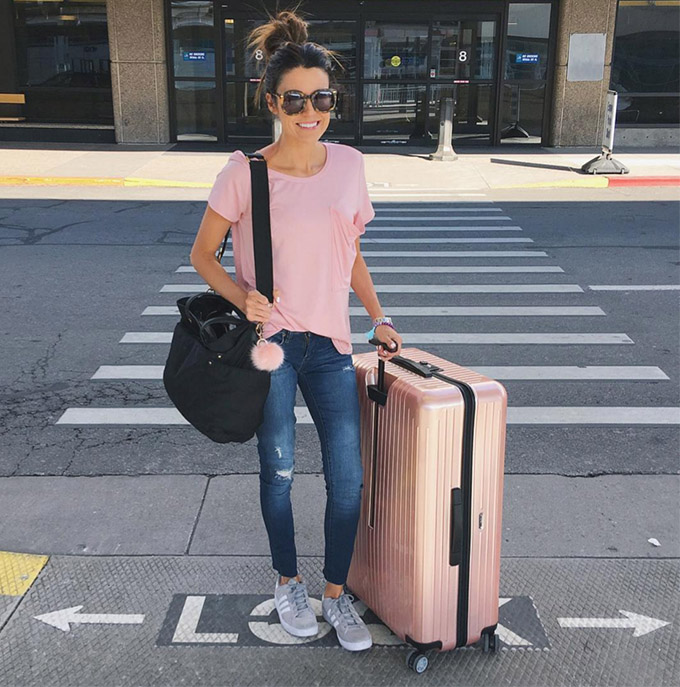 PINK OVERSIZED POCKET TEE | DISTRESSED SKINNY JEANS | GREY SNEAKERS | SUNGLASSES | BLUSH SUITCASE | BLACK DIAPER BAG | BLUSH BAG POM (SIMILAR HERE)
It's official my packing gets worse the older I get. You think it would be the opposite and you would figure out more of what you know you need but I love to have options, I love how big this suitcase is, and this top matches it perfectly. Its really soft and comfortable for traveling 🙂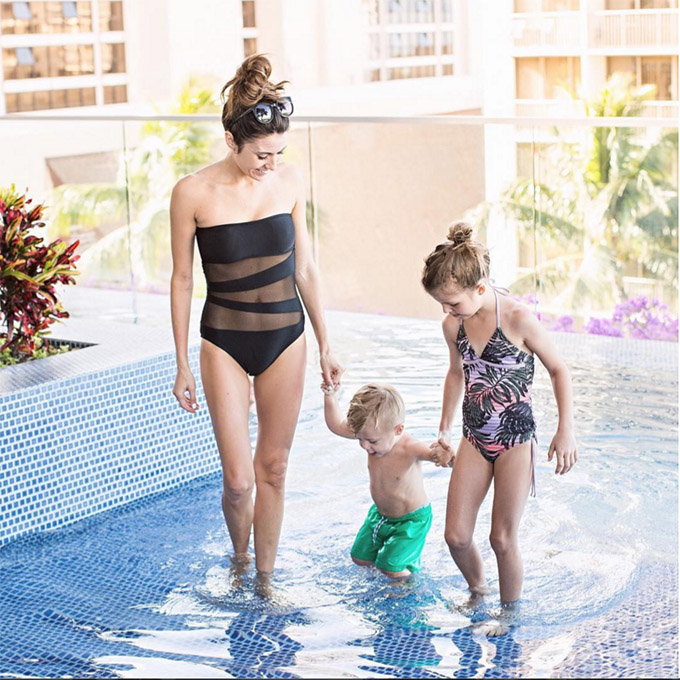 BLACK ONE PIECE MESH SWIMSUIT (UNDER $40) | SUNGLASSES | TEAL SWIM SHORTS | PALM LEAF GIRL'S SWIMSUIT
Mara loves playing Mom with B she always wants to be holding his hand and taking care of him. I love the bond between them it melts my heart. I grew up an only child and always wanted brothers and sisters so I melt seeing how close they are 🙂 You can see more of our Hawaii pics here.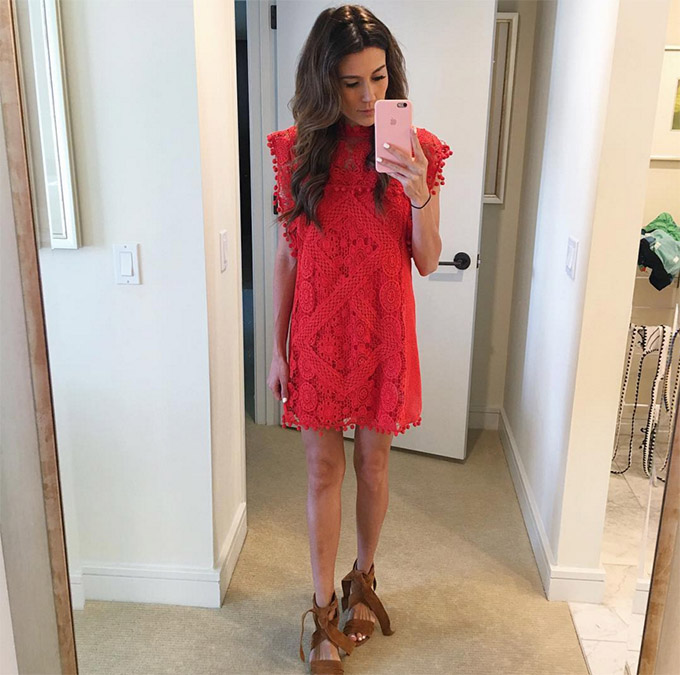 RED LACE DRESS | SUEDE SANDAL WITH HEEL (SIMILAR HERE)
I don't know if Christmas and Valentine's Day had me under a spell of red, but I was really drawn to red the last couple weeks. I saw this dress and immediately fell in love and these shoes are so gorgeous in real life! They are actually one of my most comfortable heeled sandals too. We walked all over for dinner and my feet weren't sore at all. The suede is super soft which helps a lot 🙂 These will 100% be a staple this spring and summer.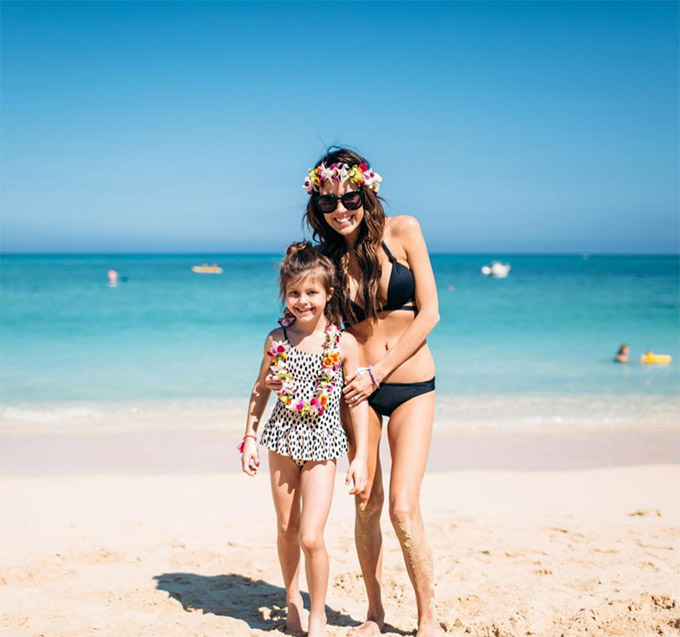 BLACK BIKINI TOP AND BOTTOMS | SUNGLASSES | GIRL'S SPOTTED ONE PIECE
Mara and my birthday are only 2 days apart, so we got matching leis to celebrate our birthday weekend in Hawaii. I sound like a broken record about the kids, but why are they all growing so fast!!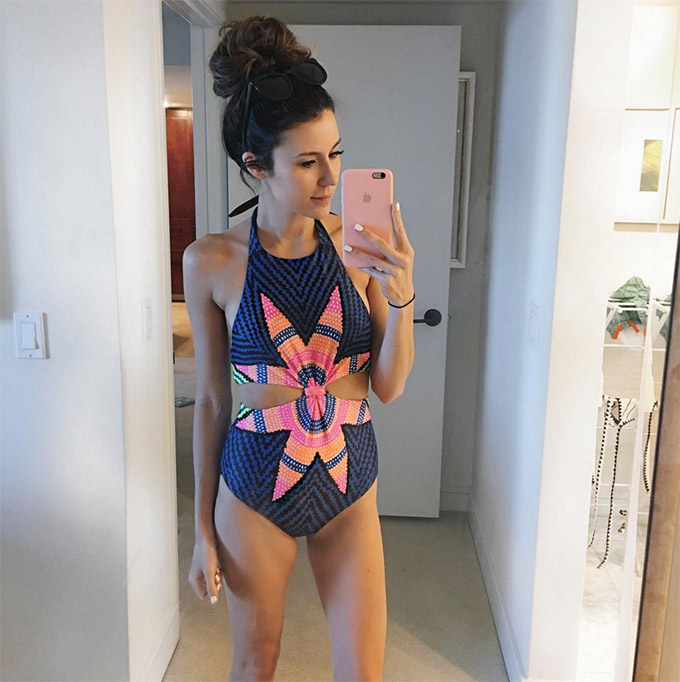 REVERSIBLE ONE PIECE SWIMSUIT | SUNGLASSES
Is it a sign your officially a mom when you start loving one piece swim suits 😉 Actually they have seriously made one pieces so cute! This one is definitely one of my favorites though. I love the cut outs and bright color scheme. I can't get enough of them lately! We have another warm trip planned next week and I can't wait to be back in swimsuit weather!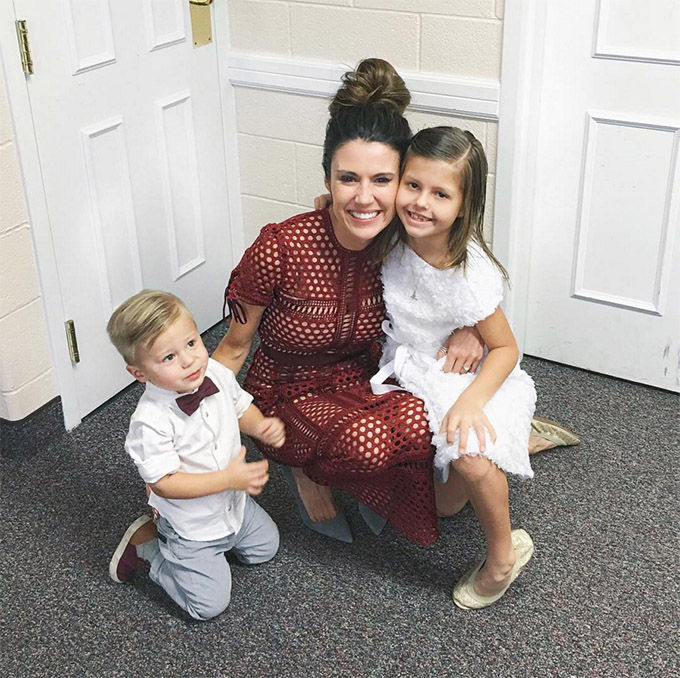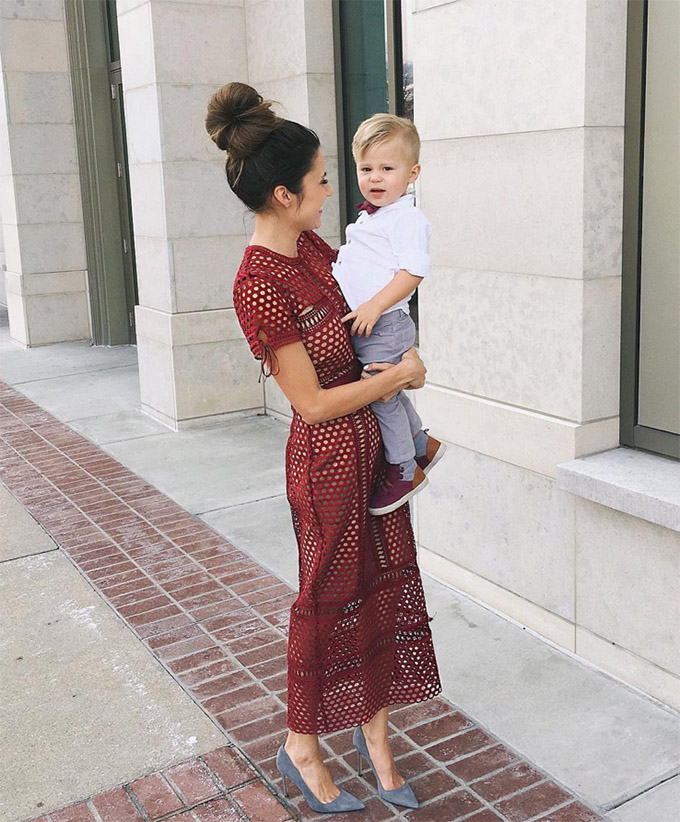 BURGUNDY DRESS (LOVE THIS SIMILAR NAVY DRESS AND THIS WHITE ONE) | GREY SUEDE HEELS 
BECKAM: WHITE BUTTON DOWN WITH BOW TIE (SIMILAR SET HERE) | BURGUNDY HIGH TOP SNEAKERS
Mara got baptized a couple weeks ago and she was so excited for the big day! We had a family brunch before to celebrate with all her cousins. Cody has a big family there are like 20 plus grandkids so it's always a party when we all get together 🙂 This dress I actually wore last year to Fashion Week. It is still one of my favorite dresses of all time. You can see how I styled it for Fashion Week here.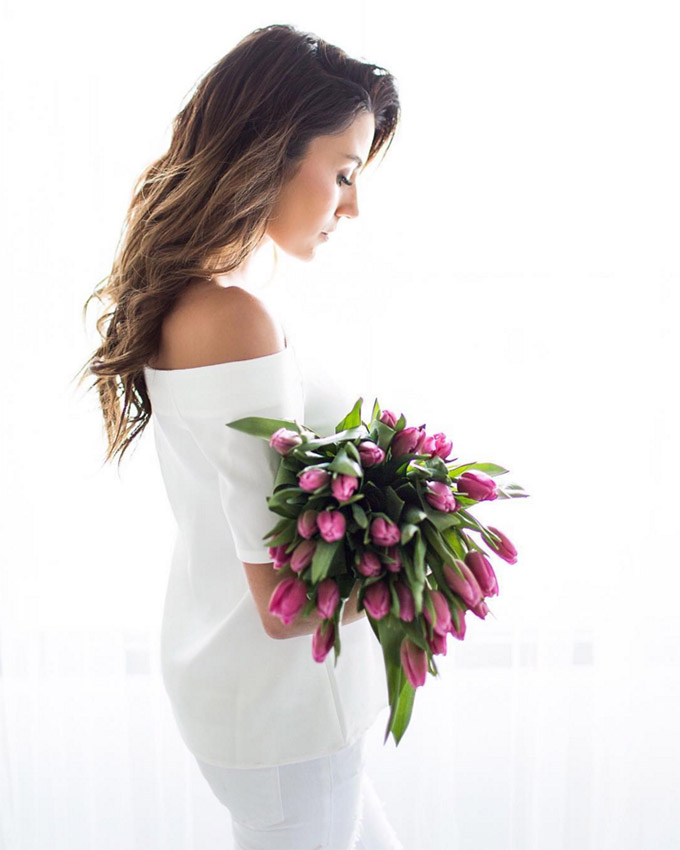 WHITE OFF-THE-SHOULDER TOP | WHITE DISTRESSED DENIM
We have so many exciting things in store for ILY this spring! This top is one of my new favorites – you can see more here.
If you missed some of the insta's you can follow along each day here: @hellofashionblog. Thanks so much for being a part of the fam! XX, Christine
SOURCE: Hello Fashion - Read entire story here.